Licol personnalisable en cuir Aztec
69.00 €
A halter with high quality leather. Un licol en cuir souple élégant et chic. Fabriqué en cuir de vachette, doublé et matelassé au niveau de sa têtière large et échancrée ( têtière anatomique) et de la muserolle pour garantir un confort optimal au cheval. Disponible en cuir marron ou noir.
Le licol personnalisable polo chic de la gamme SmartWag !
SmartWag vous propose un licol de haute qualité. Une combinaison de cuir premium souple avec têtière rembourrée echancrée pour un licol en cuir élégant et confortable.
The licol en cuir Aztec has been designed to ensure the comfort of your horse when in hand but also when tethered.
For your horse comforte licol personnalisable Aztec has a padded leather headpiece and noseband.
A customizable and adapted halter
Pour plus d'adaptabilité et de praticité, le licol personnalisable en cuir Aztec has:
D'une têtière réglable des deux côtés
D'une muserolle réglable
D'une sous gorge détachable par mousqueton mobile ( peut être mis du coté gauche ou droit) pour ôter plus aisément le licol.
Le licol personnalisable Aztec vous est proposé en plusieurs couleurs de cuir et de boucleries: noir ou marron avec des boucles dorées ou argent.
Le licol en cuir Aztec by SmartWag est personnalisable sans frais ajoutés avec une plaque personnalisée assortie à la couleur de la bouclerie.
Vous avez la possibilité de rajouter un caractère spécial ou encore un logo de race sur votre gravure (contactez nous pour nous transmettre le logo souhaité.)
SmartWag met un point d'honneur à adapter l'ensemble de ses produits aux besoins de ses clients.
To complete the look
Le licol personnalisable Aztec s'associe bien avec la Cotton leather lead rope as well as the Soul customizable bridle by SmartWag.
Quel taille choisir pour le licol personnalisé de votre cheval ?
Vous pouvez trouver ci-dessous un tableau indicatif des mesures des licols SmartWag. Pour être sûr de votre choix, nous vous conseillons de prendre les mesures de votre cheval. En cas d'erreur de taille, votre licols peut être échangé dans la limite des stocks disponibles.

Les gravures disponibles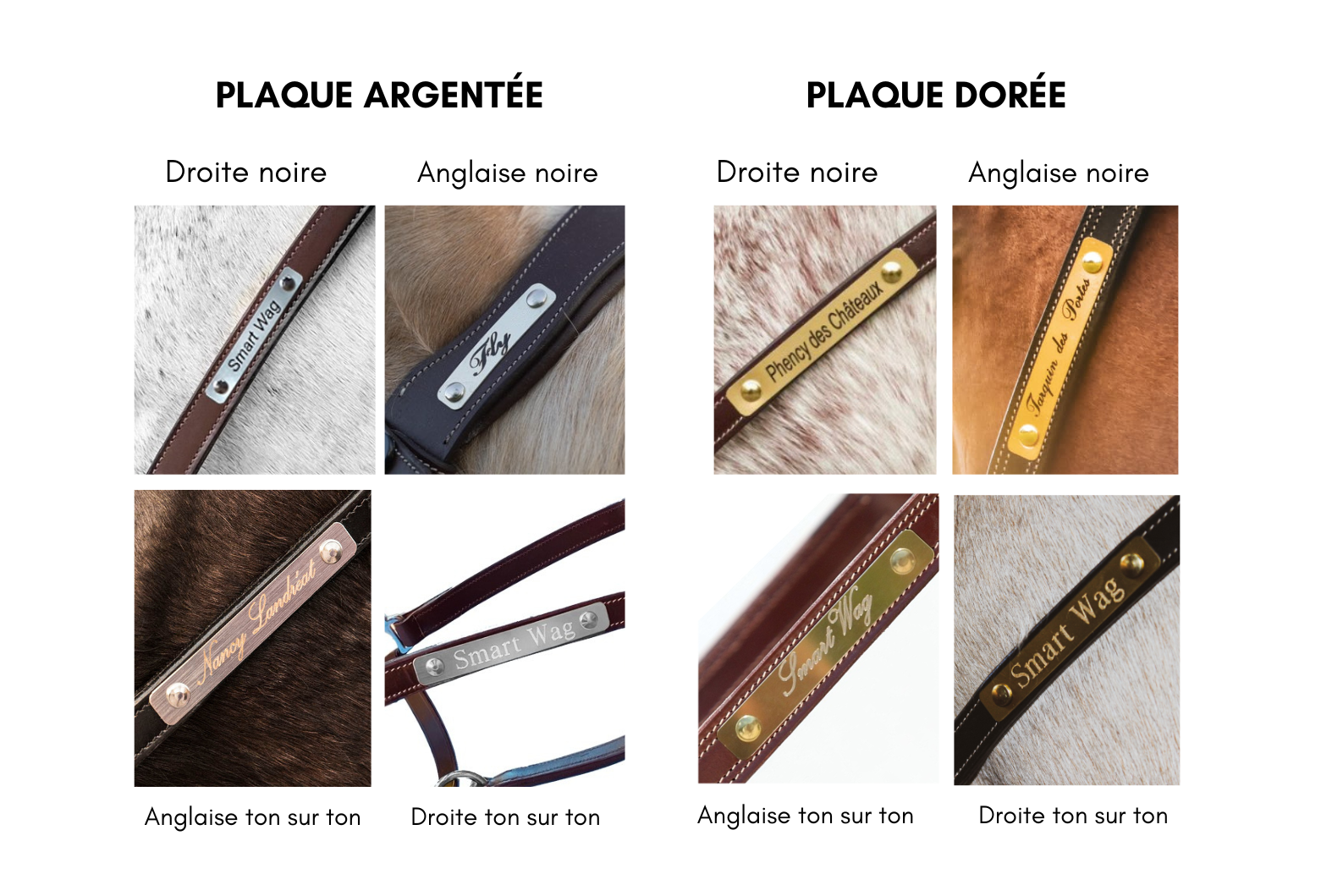 SmartWag Care Tips :
For a new leather :
New leather riding gear still has all its natural moisture and does not need to be rehydrated with glycerine soap.
On the contrary, this maintenance product could alter the colour of leathers having a natural finish (aniline), especially the brown or havana leathers.
But new leather is naturally dry stiff and must be softened before its first use. You can then apply a colourless leather oil to the back and top of the leather with a clean cloth. The oil will penetrate into the heart of the leather to soften it.
If your leather still feels too stiff, do not hesitate to repeat the application until it becomes soft enough.
You can then leave to dry for a day in a temperate and shady place. This will preserve your leather longer and give it a beautiful patina.

For leather that has already been used:
First remove the dust with a damp sponge. You can then apply a degreasing lotion to clean thoroughly.
Finally, the oil will restore the leather's softness.
Remember to let the leather dry at room temperature before applying oil.
A savoir : Smart Wag est une société Suisse. L'achat d'un article depuis un pays européen ou en devise étrangère peut vous exposer au règlement de frais bancaires.
| | |
| --- | --- |
| Weight | 0.800 kg |
| Leather color | Brown Gold Buckles, Black Silver Buckles |
| Size | PONEY (Poney), COB (Poney D, Pure Sang), FULL (cheval) |