Exclusif customizable leather halter
65.00 €
A halter with high quality leather. A combination of soft premium leather, contrasting stitching and a curved leather look for an elegant halter. Made of cowhide leather, lined and padded at the headpiece and noseband to ensure optimum comfort for the horse.
The customizable comfy and aesthetic halter of Smart Wag !
SmartWag offers you a high quality halter. A combination of soft premium leather and contrasting stitching for a stylish and elegant leather halter. The cowhide leather, lined and padded on the headpiece and noseband, guarantees optimal comfort for the horse.
The Exclusif customizable leather halter  has been designed to ensure the comfort of your horse when in hand but also when tethered.
For your horse comfortthe Exclusif halter has a padded leather headpiece and noseband.
A customizable and adapted halter
For more adaptability and practicality, the licol personnalisable en cuir Exclusif has:
An adjustable headpiece on both sides
An adjustable noseband
A detachable throat latch to remove the halter more easily.
The Exclusif custom halter is offered in several colors of leather and buckles: black or brown with a choice of gold or silver buckles.
It is available in sizes SHET to X-FULL to fit all body types.
The Exclusive by SmartWag leather halter is customizable at no extra charge with a personalized plate that matches the color of the buckle.
Personnalisez votre licol en inscrivant votre texte dans la fenêtre « Personnalisation ».
Vous avez la possibilité de rajouter un caractère spécial ou encore un logo de race sur votre gravure (contactez nous pour nous transmettre le logo souhaité.)
SmartWag constantly adapts all its products to the needs of its customers.
Utilisation et sécurité
Afin de garantir la sécurité de votre cheval lors de l'utilisation de vos produits Smart Wag, veuillez trouver nos recommandations sur cette page.
Note importante : comme tout licol pensé pour la sécurité de votre cheval, le licol Exclusif n'est pas incassable. Il est au contraire conçu pour céder lors qu'une tension trop importante survient. 
To complete the look
The Exclusif Custom Halter pairs well with the Cotton leather lead rope as well as the Exclusif customizable bridle Exclusif by Smart Wag.
Quel taille choisir pour le licol personnalisé de votre cheval ?
Vous pouvez trouver ci-dessous un tableau indicatif des mesures des licols SmartWag. Pour être sûr de votre choix, nous vous conseillons de prendre les mesures de votre cheval. En cas d'erreur de taille, votre licols peut être échangé dans la limite des stocks disponibles.

Les gravures disponibles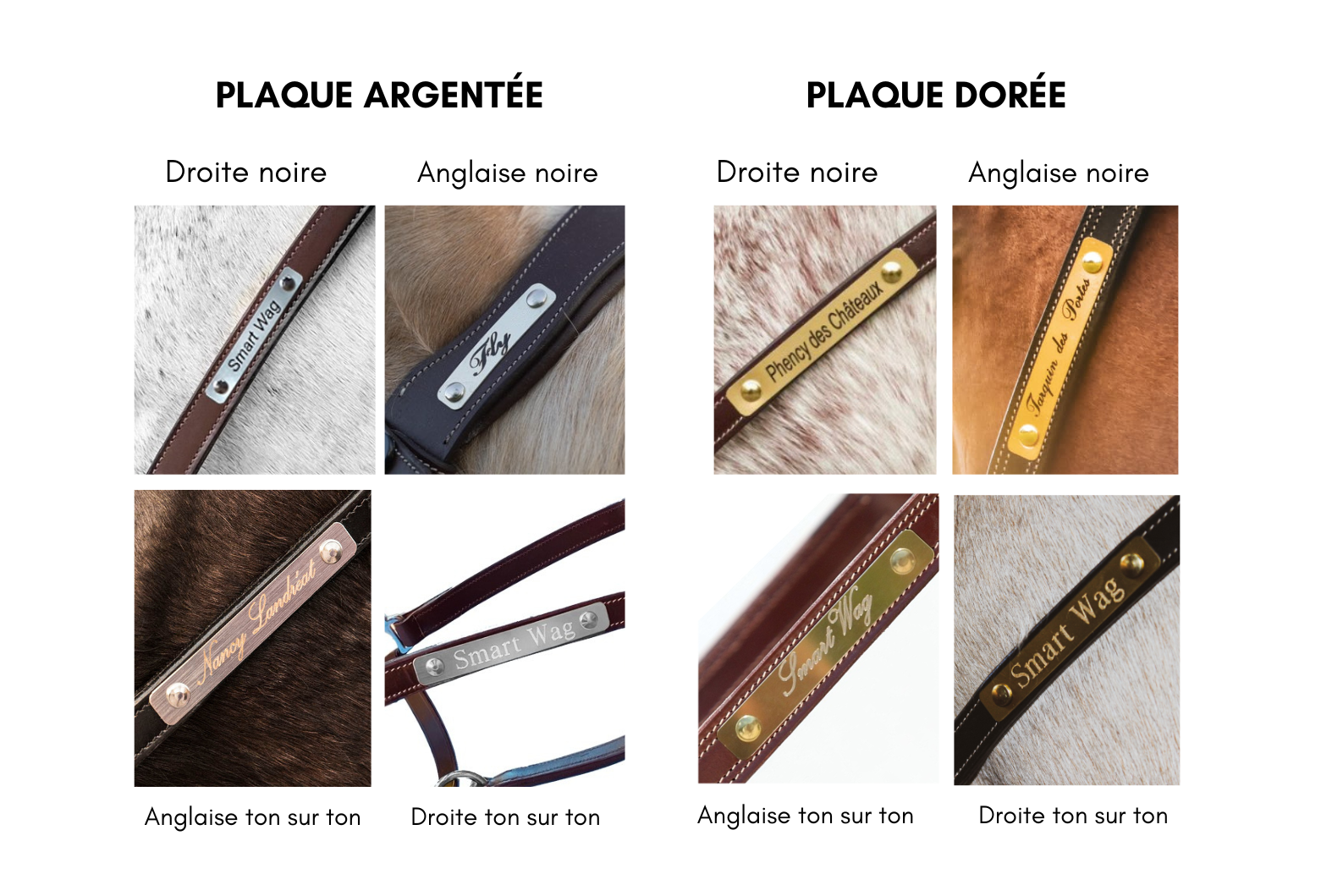 Le licol Exclusif porté par nos clients
SmartWag Care Tips :
For a new leather :
Un matériel d'équitation en cuir neuf dispose encore de toute son humidité naturelle et n'a pas besoin d'être réhydraté avec du savon glycériné. Au contraire, ce produit d'entretien pourrait altérer la couleur des cuirs avec une finition naturelle (aniline) en particulier les cuirs marrons ou havanes. Mais le cuir neuf est naturellement sec rigide et doit d'être assoupli avant sa première utilisation. Vous pouvez alors appliquer une huile à cuir incolore sur l'envers et le dessus des cuirs avec un chiffon propre. L'huile va pénétrer au cœur du cuir afin de l'assouplir. Si votre cuir vous semble encore trop rigide, n'hésitez pas à renouveler l'application jusqu'à ce qu'il devienne suffisamment souple. Vous pouvez ensuite laisser sécher pendant une journée dans un endroit tempéré à l'ombre. Cette précaution vous permettra de préserver votre cuir plus longtemps et d'avoir une belle patine.
For leather that has already been used: Enlevez d'abord la poussière à l'aide d'une éponge humide. Vous pouvez ensuite appliquer une lotion dégraissante pour nettoyer le matériel en profondeur. Pour finir, l'huile va redonner au cuir toute sa souplesse. Pensez à bien laisser sécher le cuir à température ambiante avant d'appliquer une huile.
A savoir : Smart Wag est une société Suisse. L'achat d'un article depuis un pays européen ou en devise étrangère peut vous exposer au règlement de frais bancaires.
| | |
| --- | --- |
| Weight | 0.800 kg |
| Leather color | Brown with Silver Buckles, Brown with Gold Buckles, Black with Silver Buckles, Black with Gold Buckles |
| Size | PONEY (Poney), COB (Poney D, Pure Sang), FULL (cheval), XFULL (Grand Cheval) |